Meet the ACTS team! You've stumbled upon an ACTS Team Member spotlight. These spotlights, published once a month, share what our team members do each day to make ACTS a success.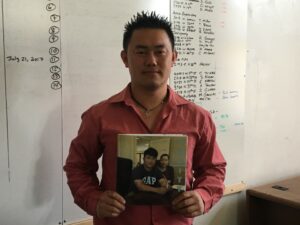 Yeng Vang, an ACTS realtor, is a ball of jingling keys, brisk walks to the copy machine, and home closings.
Last month alone he closed on six homes.
A part of his success might be his camaraderie and openness with families.
Yeng, 33, encourages his clients to text him with any questions or concerns they may have about the process of buying a home.
Follow-up with families often requires visits, and he stops by after work to answer questions or listen to concerns.
He doesn't mind. He will tell you it's par the course in serving the Hmong, Thai, Laotian and Korean communities in Milwaukee.
"When I was growing up people were supportive of me," he said. "I just want to carry on with that."
Through it all he says the families keep him grounded and focused.
"I take it one day at a time and think about the families," he said. "They often come from war-torn countries and they're just trying to find a place to live."
Yeng can relate to their stories.
He came to the United States after fleeing his native Thailand in 1991 when he was six during the aftermath of the Vietnam War. He spent time in a refugee camp.
His family settled in Wisconsin, and he graduated from Hamilton Sussex. About two or three years ago, Yeng found ACTS when he applied to be an Assistant Realtor alongside realty champion Blia Cha.
She was his mentor until she retired last year.
Although he is immensely successful as a realtor, Yeng has a creative side.
He always wanted to be a graphic designer or animator.
"I'm here from a Third World country doing something I never thought I could do," he said. "As I got older I realized the sky's the limit."