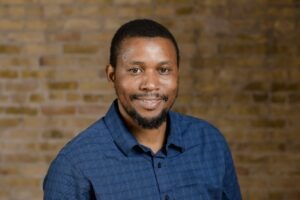 Meet the ACTS team! You've stumbled upon an ACTS Team Member spotlight. These spotlights, published once a month, share what our team members do each day to make ACTS a success.
Yussuf Mursal, 36, just hit his six-week milestone as an employee of ACTS. He says he is enjoying his time here.
"Everything I do here I like," he said. "I have never had such a warm welcome and people to support me and show me how I can do a better job."
Yussuf works as ACTS' administrative assistant which often requires him to interface one-on-one with interested homebuyers.
It is a natural fit for him.
Yussuf, too, is an ACTS homeowner and was a featured speaker at ACTS' very first Longest Neighborhood Table fundraiser.
"We like it here," he said of himself and his family who emigrated from Somalia in 2004.
They fled the country's civil war and he recalls that they walked to the refugee camp in Kenya. It took 17 days.
His experience as a refugee has carved a lane for him professionally. Up until six weeks ago, he worked as Lead Case Manager at Catholic Charities of SE Wisconsin where he helped other people emigrating resettle in Milwaukee.
Yussuf continues to assist the Somali community in Milwaukee, and gets them on the path to homeownership. Recent ACTS orientations have boasted at least one referral from Yussuf.
"I like helping people," he said. "Your neighborhood is where you get back to normal and say 'this is my starting point in life."